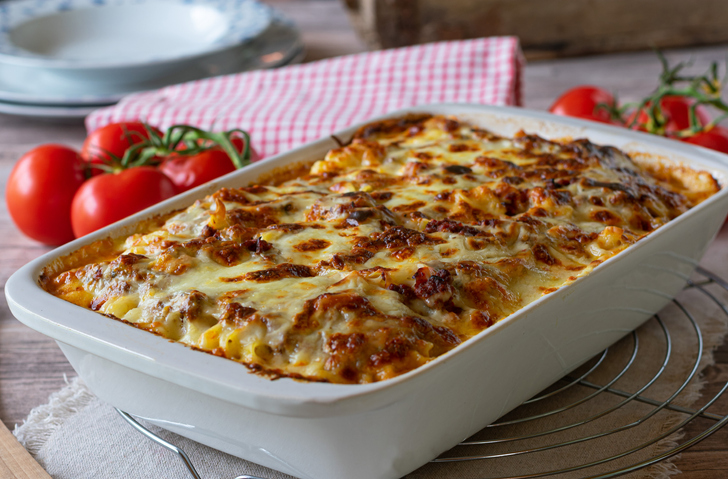 Make dinner fun tonight by making Mary Berry's lasagna recipe. Not only is Mary Berry baking royalty, the Great British Bake-Off former judge knows her way around a lasagna too! Make your family smile tonight and dive in with her recipe thanks to BBC Food.
Lasagna Ingredients
Mary's recipe has many components, for the ragu, you will need two tablespoons of olive oil, two pounds of ground beef, two onions, four sticks of celery, two cloves of garlic, two tablespoons of plain flour, ¼ pint of beef stalk, one tablespoon of redcurrant jelly, three tablespoons of tomato puree, one tablespoon of thyme, and two 400 grams cans of chopped tomatoes.
For the white sauce, gather two ounces of butter, two ounces of plain flour, one and ¼ pints of hot milk, two tablespoons of Dijon mustard, two ounces of grated parmesan cheese, and salt and freshly ground black pepper. You will also need 12 sheets of lasagna noodles and three ounces of grated mature cheddar.
How to Make Lasagna
Begin by preheating your oven to 325 degrees Fahrenheit. Start on your ragu by heating oil in a frying pan until hot. Cook your ground beef until browned and then transfer it to a plate. Add onion, celery, garlic to the pan and cook until soft. Return the beef to the pan with the flour, stirring in. Add the beef stalk and bring it to a boil. Add the jelly, tomato puree, and thyme, stirring well. Then stir in the chopped tomatoes and cover to simmer for one to one and ½ hours.
For your white sauce, melt the butter in a saucepan, add the flour and cook for about one minute. Add the hot milk gradually, stirring until thick. Add the Dijon, parmesan, salt, and pepper.
Start building your lasagna with ⅓ of the red sauce in a four-pint shallow ovenproof dish. Place ⅓ of the white sauce on top, add a layer of lasagna noodles, and season. Spoon half the remaining red sauce on top and then half the white sauce. Add another layer of lasagna noodles. Add the remaining white and red sauces, and then the cheddar cheese on top. Leave for six hours before cooking. Preheat the oven to 400 degrees Fahrenheit and cook for 45 minutes.
Tips for Lasagna
If you want a more meaty flavor, use dripping instead of olive oil. You can also split the recipe into two smaller lasagnas and freeze one for later!
You might also like: Ways To Show Love To Your Valentine
Sides for Lasagna
You can always choose a classic side, like bread and salad. Or you can broaden your horizons and pair the lasagna with roasted asparagus or Brussels sprouts! Either way, you will have a yummy meal!