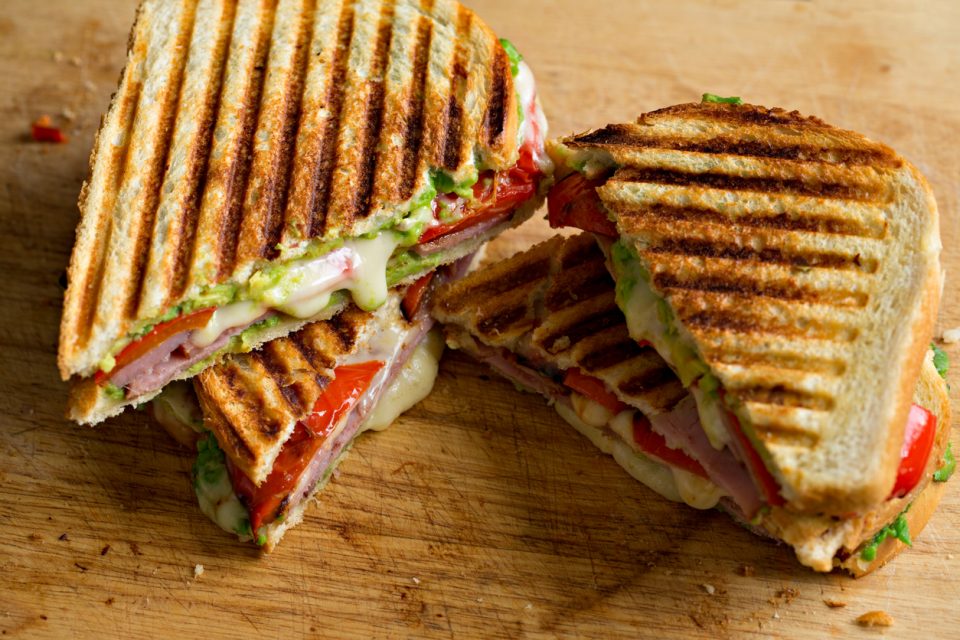 If your standby lunch is getting a little boring, it's time to switch it up a bit. You don't have to go all out, either. If sandwiches are your thing, then a panini isn't much of a stretch! But it can be a whole lot more interesting. Use your imagination to create one of these melty, crunchy, satisfying sandwiches and you may never go back to your standard PB&J again. Don't have a panini press? No worries. These sandwiches can be pressed the old-fashioned way, using a heavy skillet to press down on one side of the sandwich while you toast the other. Here are a few panini recipes courtesy of Taste of Home that can get your culinary wheels turning and bring a spark back to lunchtime!
Rotisserie Chicken Panini
The rotisserie chicken might just be the best thing since sliced bread. Why not take juicy slices from one of these deli staples and sandwich them between two thick slices of sourdough? Joining the party to create the Rotisserie Chicken Panini are crisp bacon, gooey mozzarella, fresh tomato and red onion, and a delightful pesto-mayo spread. Cooked until crunchy on both sides, this tantalizing panini will quickly make its way to the top of your lunch rotation.
Bistro Apple Panini
Feeling a little fancy, but don't have the time to make a fancy lunch on your midday break? This Bistro Apple Panini can satisfy your desire for upscale fare without taking much time or effort. This sandwich features thinly sliced apple, bacon, apple jelly, tarragon, Dijon mustard, and Havarti cheese for a taste and texture sensation you'll want to revisit again and again. Keep these ingredients on hand along with some high-quality sourdough, and you'll be ready to whip up one of these delicious paninis any time the craving strikes.
You might also like: Top Sushi Places In Owensboro
Triple Pepper Steak Sandwiches
With a little advance prep, you can assemble and cook a hearty Triple Pepper Steak Sandwich when your appetite demands something beyond the ordinary. It's a great way to use up leftover fajita meat and peppers, steak, or even chicken. Caramelized onions, peppers, mushrooms, and the meat of your choice get a generous topping of chipotle cream sauce and pepper Jack cheese to finish. The result? A knife-and-fork sandwich that's ready to satisfy even the biggest appetites.