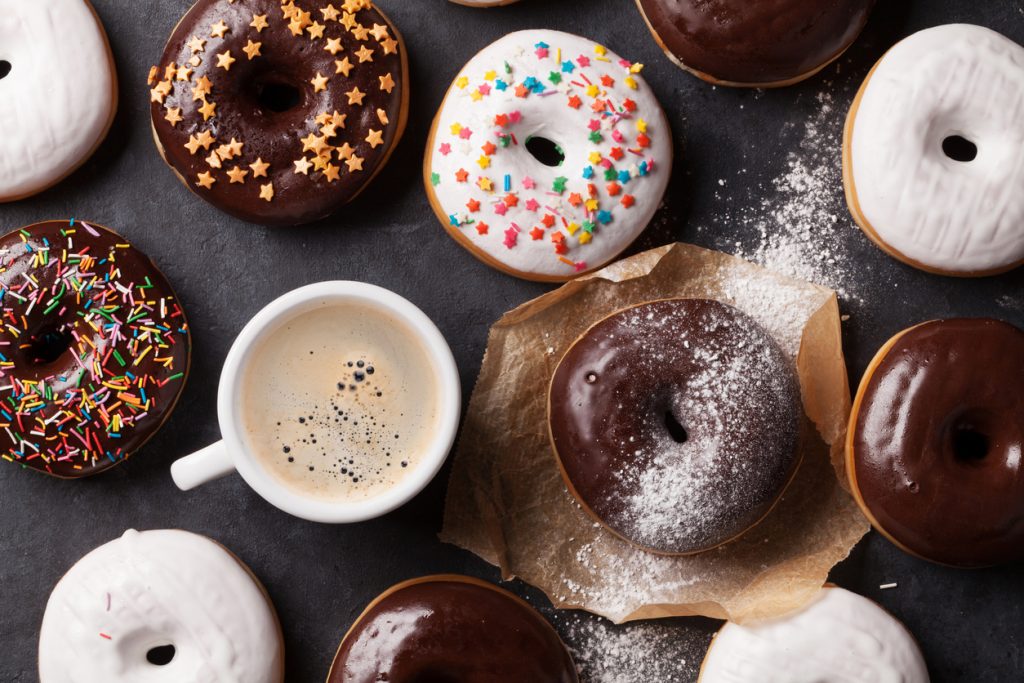 There's never a bad time for a donut, so whether you're feeling a classic confection or some other tasty treat, you're sure to satisfy your sweet tooth at Owensboro's own Rolling Pin Pastry Shop.
The Donuts and Pastries
The slogan says "It's all about the donuts," at Rolling Pin, and once you've tasted one for yourself, you may easily agree. Each day, the kitchen bakes over 25 varieties of their famed donuts, spanning a tremendous range of styles, frostings, and flavors. You can't go wrong with a traditional glazed donut, but it's hard to resist the allure of the dipped offerings dripping with chocolate, maple, or caramel. If you're a fan of cake style donuts, they have you covered with vanilla, blueberry, chocolate, powdered sugar, cinnamon, and seasonal varieties. If you want to think outside the classic ring, they also bake long johns, twists, apple fritters, and honey buns.
While their donuts have garnered considerable praise, regulars know that the shop also serves up other fantastic treats, including sweet rolls, cookies, brownies, and muffins. You may enjoy a puff pastry turnover with either apple or cherry filling, or a sweet Danish with cherry, apple, or cream cheese.
A record of Success
The little pastry shop has been an Owensboro staple for over 70 years, owned and operated by three generations of dedicated family. In that time, they've earned their share of accolades and awards, including "Best Owensboro Donuts" for five years, and the Messenger Inquirer's "Reader's Choice Award for Best Bakery" from 2009 to 2019, and "Owensboro's Best Bakery" from 2015 to 2017. When the bakery first opened downtown in 1947, they operated out of a space on St. Ann Street, but it was only a matter of months before they set up shop at their current location on East 18th. The present-day proprietors, Kathy and Roger Farmer, still uphold the premium quality and attention to delicious detail that has made Rolling Pin a decades-long success story.
Plan Your Visit
The Rolling Pin Pastry Shop is open seven days per week. Their business hours are 4 a.m. to 5:30 p.m. on Monday through Friday, 4 a.m. to 2 p.m. on Saturday, and 5 a.m. to 12:30 p.m. on Sunday. The shop is located at 1129 East 18th Street, Owensboro, Kentucky 42303.
You might also like: Check Out The Owensboro Museum Of Science And History
 While in Owensboro
Whenever you're ready to sweeten your daily drive, you can find an exciting new ride at our Don Moore Automotive dealerships. We have a wide selection of top-quality vehicles at our locations across Owensboro and Hartford, and you'll always enjoy excellent customer service no matter which dealership you visit. We hope you'll take a look at our inventory today, then come by when it's time to drive home in the car of your dreams!