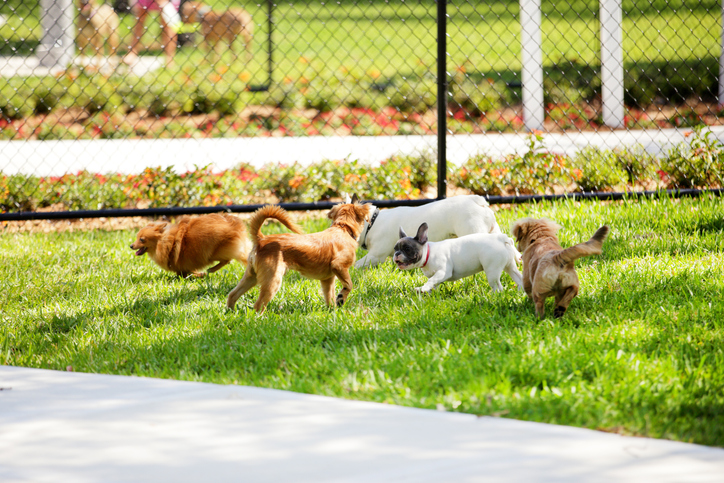 After years of waiting, Owensboro opened its first off-leash dog park in 2019. Named Castlen Dog Park, it's located inside Legion Park and hosts an assortment of large, medium, and small dogs throughout the week. The park's open daily from 5 a.m. to 10 p.m. and is free to enter. Get the details on this popular dog park and bring Fido over for a fun day romping around with new friends.
The New and Improved Castlen Dog Park
If you went to Castlen Dog Park in the past, you might have been put off by the closures and maintenance issues. The park was initially divided into two sections to separate the big and small dogs. Since the entire park was in use during daylight hours, the maintenance team couldn't keep up with repairs. The staff had to close the park occasionally to address the repairs, but the park still had major turf issues.
Now, though, that problem is in the past. The organizers have changed the layout by dividing it into four sections, with two open at a time. The open and closed sections alternate every few weeks, giving the team ample time to work on the turf.
This means the two open runs are 0.4 acres instead of 0.8 acres. That might be a bit smaller, but the turf is much nicer now. It also allows the staff to get the mud under control, which was a big complaint in the dog park's early days.
You might also like: Head Out To The Botanical Garden
Dog Park Rules
The dog park has some basic rules you must follow to ensure that everyone has fun and stays safe. There's a limit of two dogs per adult, so if you have a crew, bring some friends along with you. Also, your pets need to be vaccinated, and you need to clean up waste. Additionally, the staff isn't too keen on dogs digging holes here. If Fido starts digging for treasure, fill the hole right away to prevent any injuries.
Finally, don't bring food with you to the dog park. If you're using treats as part of training, you can feed them to your pup on the way to the park. However, food and dog parks don't mix, so leave the goodies in your car. Then Fido will have something to look forward to when heading home.
A trip to the dog park isn't just fun for dogs. It's a fantastic activity for the entire family. You can't help but smile when you see your dog having so much fun, so load him up and head over. Oh, and be ready to socialize. Your dog isn't the only one who will make some buddies at this family-friendly dog park.